Over the years LITE guard Trench Shoring Products have made a number of achievements. Browse below for details of some of our achievements in improving safety in the excavating and construction industry.
Scotland
December 2015
LITE guard SUPER SIZE shipped to NORPOWER in Scotland as the preferred trench shoring system beating the oppositions steel shoring options, LITE guard being only a third the weight of steel shoring. The shields are being used in the remote parts of the country where access is limited and a light weight super strong system was required.
Egypt
December 2015
LITE guard was the preferred option for  "Methanex Corp" Ethanol plant in Egypt, they chose the all aluminium LITE guard Super shields for their project. LITE guard is being used within the plant at Port Damietta Egypt, for both maintenance and installation works.
LITE guard shield put under test at National Trench Safety
July 2015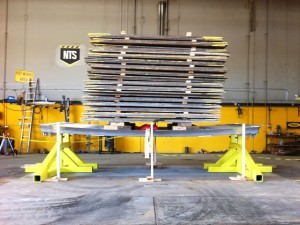 A 4.8m (16 foot) LITE guard shield was put under test at National Trench Safety with an 80 ton load. They are the North American Manufacturer and Distributer. The average deflection on the panels was only 65mm!
LITE guard in use after the Earthquakes in Christchurch New Zealand
June 2011
The devastating Earthquakes in Christchurch New Zealand have damaged large portions of the central city and Eastern suburbs. The initial efforts have been to stop leaks and get the water sewer and gas services up and running, while assessing the best long term solutions.
LITE guard trench shoring has been on hot demand from the local distributor repairs. True to name LITE guard with its low weight to strength ratio makes it ideal for these fix it jobs. You do not need to own large machines and trucks to transport and use them. This is especially good for work crews that have come from out of town, with only the bare equipment in their work vehicles and no real base or storage yards. The LITE guard shield are stored on their vehicles as they are often living in motels, so being able to hire LITE guard from has been a real life saver for them.
Winner of UK-ME Business Competition
March 2011
LITE Industries Pty Ltd, Australia were announced proud winners of the UK – ME (United Kingdom Market Entry) competition.
The competition is a forum to identify businesses with high growth potential in partnership with UK Trade & Investment (UKTI) and a range of national and global sponsors.
As a winner LITE Industries have won introductions to potential clients and distributers, guidance on the Company structure, tax structure, market assessment, PR coverage and many more business opportunities.
The win will help establish LITE Industries in the UK as the number one aluminium shoring specialist.